Ooh I wish I had some reveal pics to share with you, I really, really do.  But I'm just in the middle of a couple of projects… almost there! I'm installing the invisible zipper on my Colette Peony dress (made from a sixties double bed sheet picked up from a vintage fair for just £4!) and hemming it tonight so fingers crossed there will be a big reveal on the weekend. Here's a sneaky peek in the meantime…
I'm humming and hawing about whether to do the belt or leave as is. We shall soon see…
I've also cut out the pieces from my vintage Liberty silk for McCall's 2401. I had to hunt around for just the right shade of thread to match the fabric. Another sneaky peek of fabric and notions.  A small tip but a tip nonetheless: I use old shoe boxes to store fabric that's been cut which I have yet to sew up – it holds everything together in one place.
Finally, I'm terribly excited to announce I've just pre-ordered Tasia of Sewaholic's Minoru Jacket pattern! I have to say I really love this coat – it's so flattering and could be so incredibly funky with the right colour combinations of fabric and lining.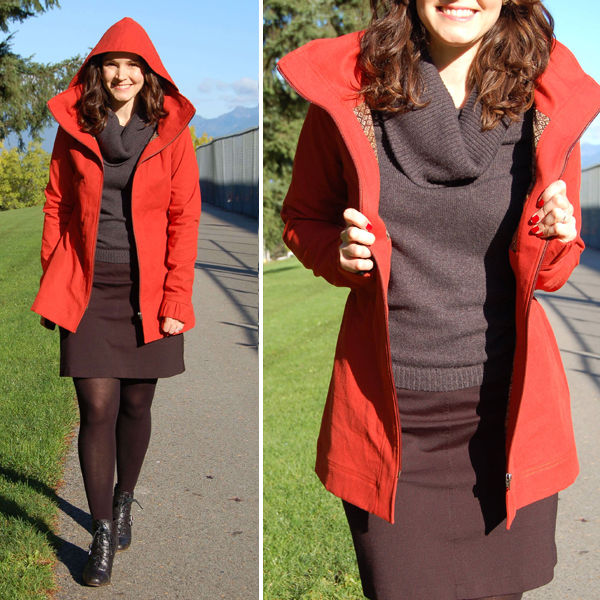 It's labelled as suitable for an intermediate stitcher but I'm hoping the sewing prefects won't see me at the back of the class with my tongue sticking out the side of my mouth in concentration, trying desperately to keep up.  You can pre-order a copy now and get free shipping until November 10th. This will be my first Sewaholic pattern so I'm really looking forward to making it up. I'm sure Tasia has the same attention to detail as Sarai from Colette patterns, plus she's planning a sewalong in January – a perfect project to while away dark winter nights and plenty of time to find the perfect fabric and perfect a muslin. This coat is ideal for brisk January walks isn't it?
When sewing thoughts are not running through my head, driving thoughts are. You might remember I passed my driving test in September, so the husband and I have been looking for a car. Just something cheap and easy to run around London in (i.e. go to Ikea every weekend from now to Chrimbo). We think we've found 'the one' but it's not for definite yet. If we do, pictures will be provided. Maybe I should stitch something for it as a sort of welcome-to-your-new-home present, like a gear stick cosy. Ooh a gear stick cosy – what a fabulous idea…. but is it legal?
What's on your sewing table?